Train, Collaborate, Host An Event
    Need a room for

2-16

people? We're you're Spot!
With

chairs that roll, whiteboards, business class wi-fi & projection options

your meeting/event will be a success! Plus great coffee/tea & cookies  will keep those ideas flowing!
NEED TO  TRAIN A GROUP OF PEOPLE?

We have the perfect room for that – especially if it is something done on the computer!  We have business class wi-fi, and a hexagonal table where each person has their own spot and

you, the trainer can walk around and view how well each person is absorbing the lessons!

The chairs are comfortable, so people don't mind spending a few hours in them and the coffee, tea and cookies are right outside the door! You can project presentations onto the whiteboards or hook to the big screen TV.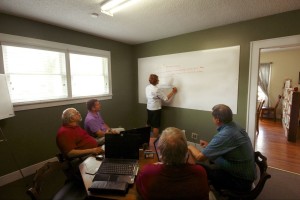 LOOKING TO COLLABORATE ON A GREAT IDEA? Go ahead write all over the whiteboards! With chairs that roll, move around the room. Get up and expound your thoughts.  Keep the ideas sparking with that gourmet coffee & specialty tea (

AHH yes, caffeine

) and homemade cookies and member snacks! When you need a break, go ahead – play some cards.   We believe it's in the cards for you to be successful with your ideas here!
HOST AN EVENT!

Whether you want to host a book signing, a presentation for your business, a Christmas fair, a product display or a Networking Event – we can organize  something fun for you.  For presentations

we can handle 2-17 people in one room at one time

, drop-in sessions can accommodate more and for Fairs, Business receptions or Networking events you can even use the whole building! Come tell us your idea and we'll show you some options! 
( BTW, we host a networking meeting once a month- 6:30-8:30 pm.  Come join us, make some new contacts and see how the space can work for you!! See our

Events Page 

for more details and to register).
                              OR