NEED A PLACE TO WORK, COLLABORATE OR HOLD AN EVENT?
We've got some great "spots!"  Temporary furnished office suites, a collaboration room, a boardroom or cafe seating– we have what you need in Rome, GA.  Click on a picture below and find the "spot" that's perfect for you!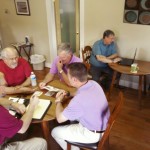 To Check Availablilty or to Book any of these spots:
  Call

706-237-6789

. 
Co-working spaces are  such fun because they are all different in décor, they have interesting and kickass talented people  working from there PLUS  they all have a fun aspect to them. The Venture Spot is no exception.
 First there are our fabulous members. You can meet some of them here: 

Meet Our Members

  but really it's better to hang out with them in person.  Second, we are modeled after the movie "

The Thomas Crown Affair

" and we have prints of all the paintings from the movie in the various rooms while the rooms are named after the original painters. How cool is that?  Plus every room has a game in it because, really, who can work all the time??