What fun we had on

Geek Week

at The Venture Spot – culminating in our monthly Networking Event where we "Geeks" tried

3D Scanning

to produce our best "

Fun House Geek Look

". So, now it's time to

vote for your favourite "Geek"!
Using a 3D app and having each person wear the same "geek"  glasses and bow tie we created crazy, yet simple 3D images of each person's face. The cool part is that, if we wanted to, we could 3D print these images. OK, these are "Fun House" style images, so we might not WANT to 3D print them, but we COULD and the fact that we could scan something in one minute that could be 3D printed made this a winner in our "Geek" book.
So, in the comments section below, vote for your "Favourite Geek!" Please

  state only the name of the picture you are voting for and any relevant comments to the topic of 3D scanning and/or printing or about the event in general

. NO personal comments or crude comments please (they will not be approved).
So, without further ado – here they are:
   Geek #1:                                    Geek # 2: .                              Geek #3:
   Geek # 4:                                   Geek #5:                                Geek #6: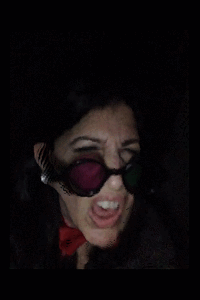 Geek #7:                                 Geek #8:                               Geek #9