THE VENTURE SPOT CLUB: ROME  is located at:
1412 Dean Ave
Rome, GA 30161
Ph: 706-237-6789
Come Join Us to Plot, Scheme and Carouse!
Hours:  We are open most days from 10:00 a.m. – 6:00 p.m.  Other hours and weekend hours are available by request.  Please call ahead to book your Free Tour.    View our

Rooms and Spaces



COME JOIN THESE & OTHERS IN OUR GROWING COMMUNITY!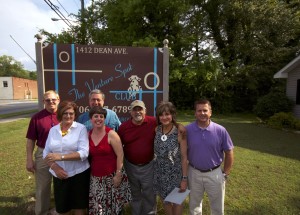 Directions:
FOR THOSE IN ROME,

we are located on Dean Ave – directly across the street from Pick 'O Deli, right next door to East Central School. (yes, on the same side of the street as East Central School).
FROM ATLANTA

:  When you are coming into Rome on Hwy 411,  the Dean St. Exit is just past the intersection with two car dealerships and just before you round the curve to head onto Turner McCall Blvd.  Take the Dean St. Exit, turn right and we are about 3 blocks down on the left hand side- just past East Central School.
FROM CHATTANOOGA

:  Head into Rome on Hwy 53. Cross Turner McCall and continue on until 2nd Ave. Turn left on 2nd Ave.  Continue on 2nd Ave past the YMCA and the Claremont House Bed and Breakfast.  When 2nd Ave ends at E 12th street (just before the onramp to Hwy20/27) turn left onto E 12th St.  Cross over the highway and then turn right immediately at The Suntrust Bank onto Dean Ave.  We are approx. 1 block down on the RHS, between Hair Therapy and E. Central School.

A SHOUT OUT to the following people, without whom this website would not have been possible:
Kathy Drewien

–

Atlanta WP Coach

–

who coached us through the initial set-up of this site and beyond. (Any errors are ours, not hers :))
Kara McDowell

–

McDowell Photography

 

who took the majority of the pictures on this site one fun afternoon and to all our members/users who agreed to participate in the photo shoot. (Any not so great pictures here were not taken by Kara :))
Michelle Spiller

–

Copywrited

–

for the new logo, banner design and balanced colour scheme of the pages!
If you could use their help with any of your projects, let us know and we can hook you up!